Our Vegan Protein is a delicious plant based protein blend made by our team of vegan nutritionists. It was crafted for vegans and anyone looking to diversify their protein intake away from dairy. It is a 100% plant based blend that uses the finest ingredients to give you the best taste experience.

Unlike other vegan protein shakes in the market, our Vegan Protein contains five different sources of protein: pumpkin seed protein, brown rice protein, sunflower protein, soy protein and pea protein. Each protein source has its own unique nutritional profile, meaning you benefit from a more complete nutrient intake by choosing our Vegan Protein than you would from choosing a single source vegan protein powder.

Vegan Protein includes an abundance of branched chain amino acids and contains no added sugar. It is low in fat, low in carbohydrates, and high in plant based protein. Additionally, our Vegan Protein is GMO free, dairy free, lactose free, gluten free, and wheat free.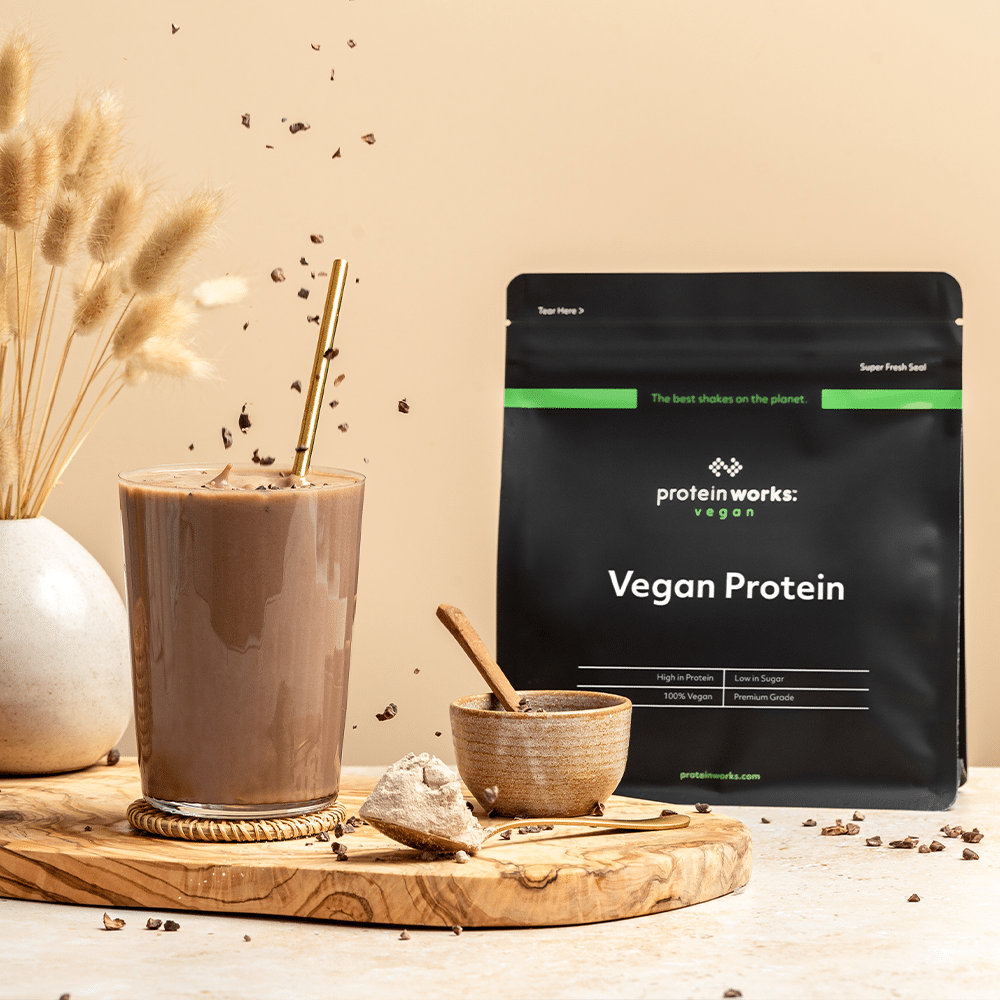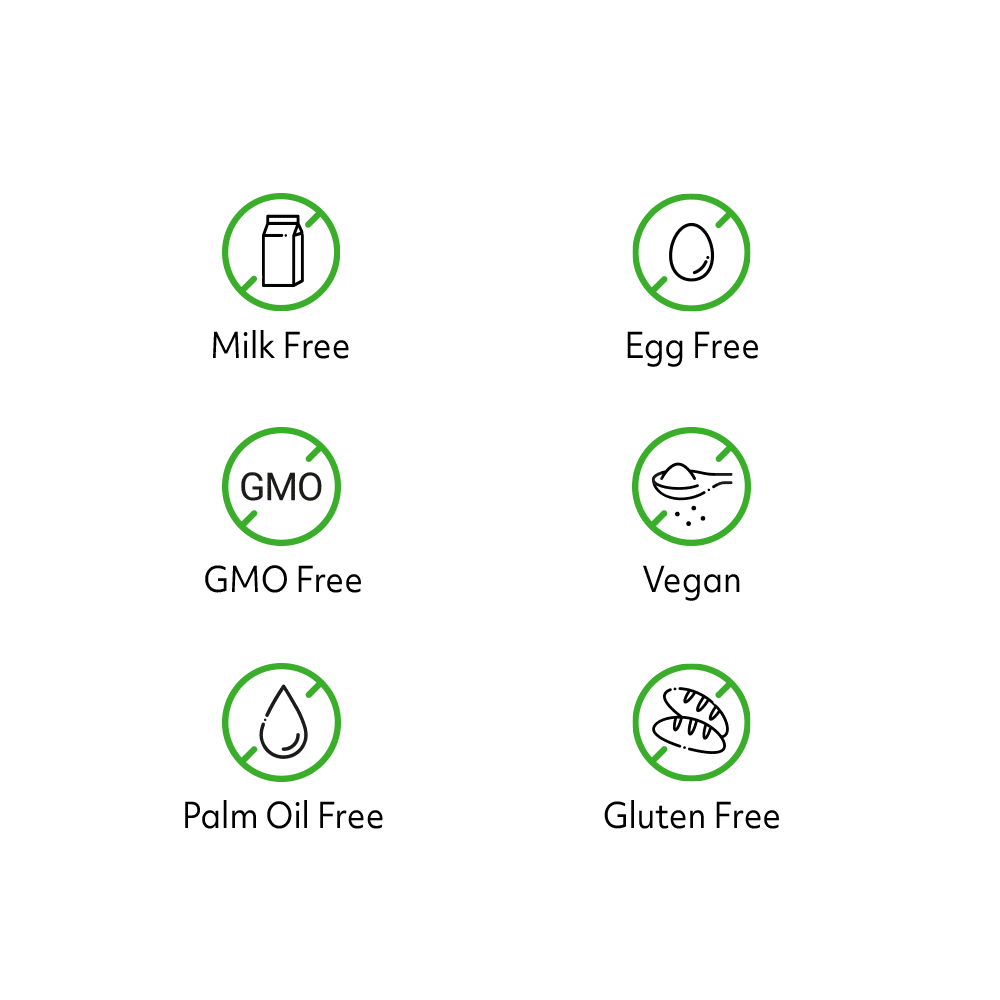 About Vegan Protein
Vegan Protein contains no added sugar and up to 25g of protein per serving. This, combined with as little as 0.6g of fat and 0.2g of carbs*, means it is the ideal shake for anyone looking for a high protein vegan shake to enjoy any time of day or night.
You can consume Vegan Protein on-the-go, before or after the gym, at home, or whenever you need to boost your protein intake. It is ideal for vegans but can also be enjoyed by non vegans or anyone looking to make a plant based choice for health reasons and/or the environment.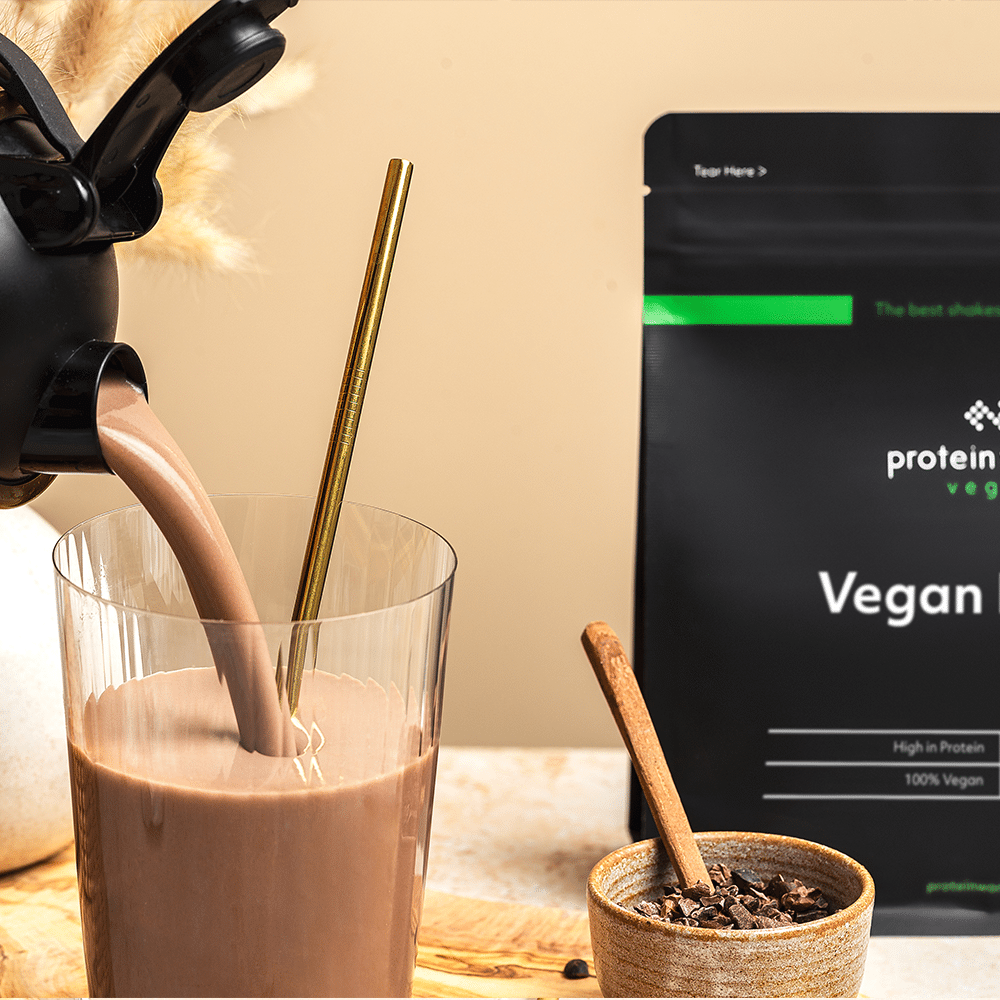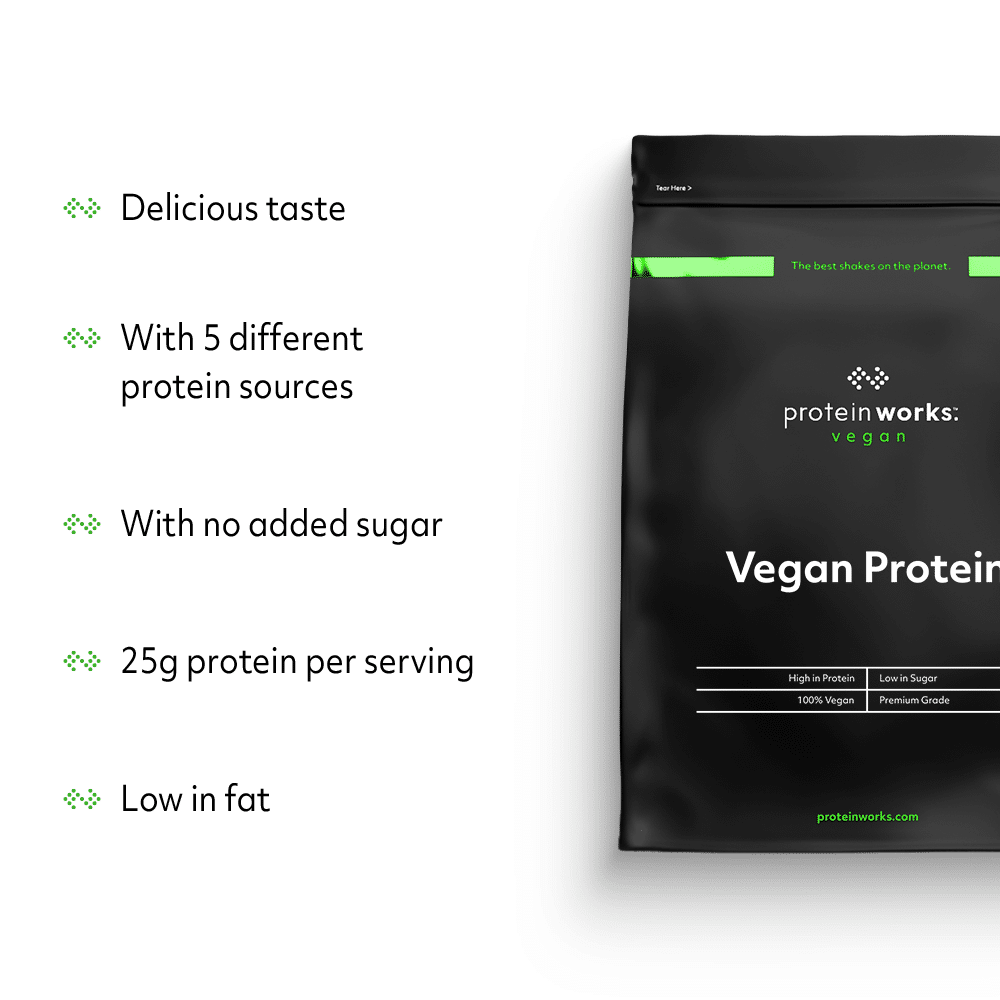 Why buy Vegan Protein?
This product is one of our top rated products and gives you peace of mind that it is consumer endorsed. We use only the finest plant based proteins and ingredients to ensure you get the quality and nutritional content you are after.
We also pay extremely close attention to the flavor of your shake to ensure it hits all the right notes and delivers the perfect taste experience for you. All the shakes in our vegan range have a smooth texture and are perfect to enjoy before or after a workout, or as a snack when you need to boost your protein intake.
Our Promise to You
Our mission at Protein Works is to create the best shakes on the planet; shakes taste delicious and deliver the best experience for our customers. We care a lot about product quality and traceability. That's why each ingredient supplier must pass rigorous audits and checks before we give them our Protein Works Quality Seal of Approval. We demand exceptional quality from every single ingredient and supplier, never compromising or settling for anything short of the best. The satisfaction of our customers is our topmost priority.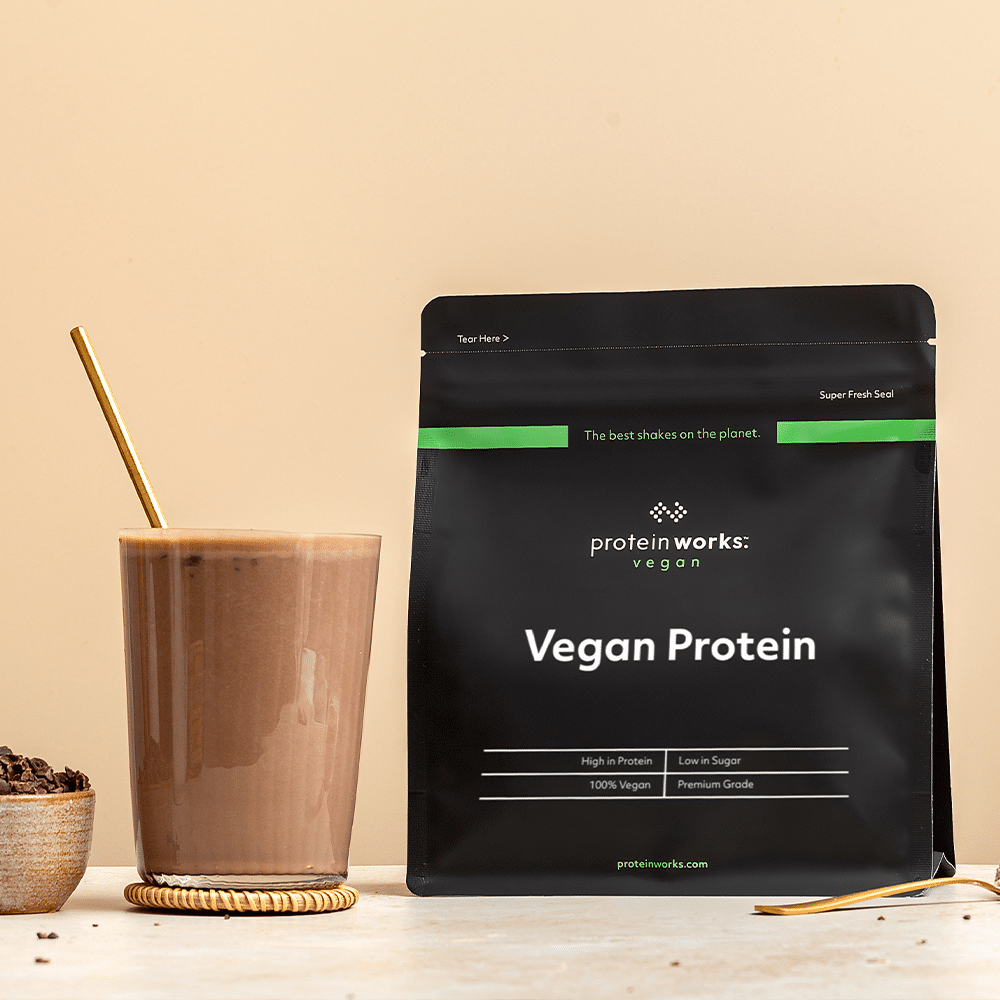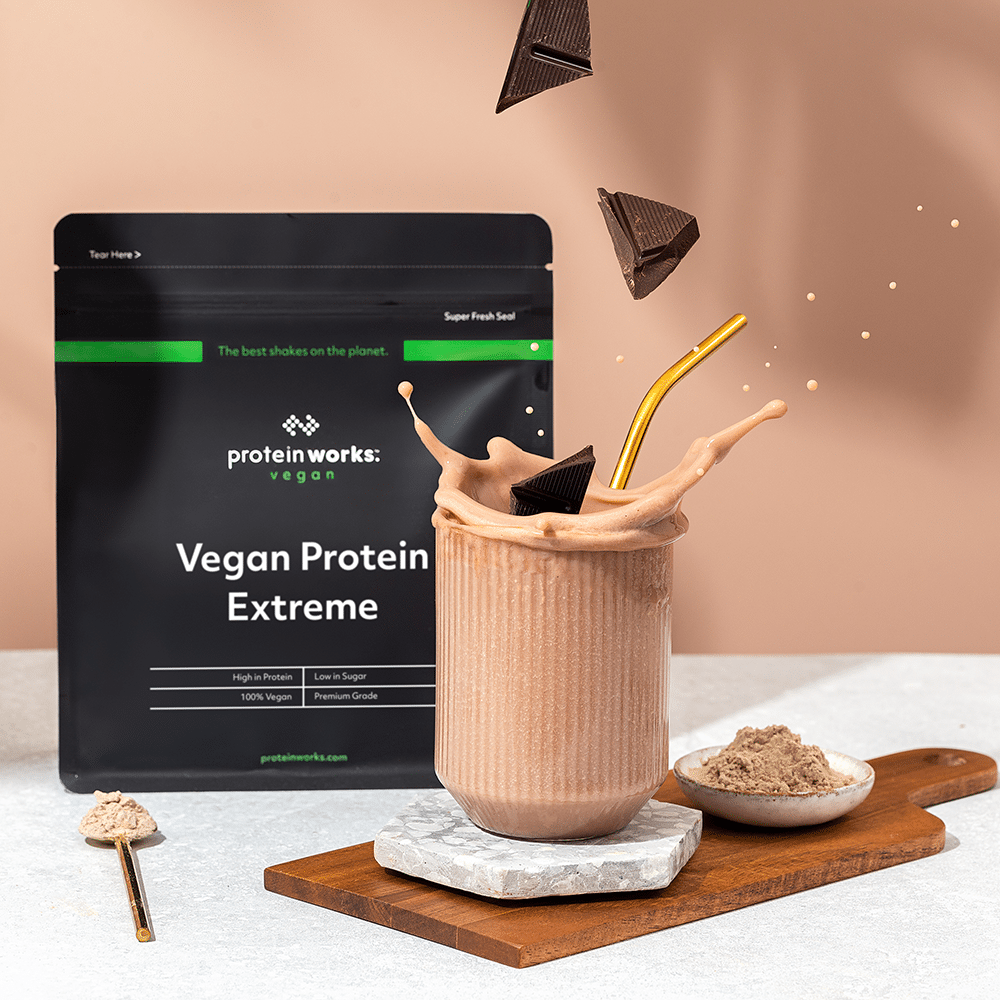 If you're looking for a more advanced vegan protein shake, with more protein per serving, added vitamins and minerals, and a wider selection of flavors, then you have to try our Vegan Protein Extreme.
Vegan Protein Extreme packs up to 29g of protein per serving and comes in over 15 delicious flavors including Apple Cinnamon Swirl, White Choc Peanut Sundae, Dark Choc Raspberry, Birthday Cake, and more. Vegan Protein Extreme is also enriched with essential vitamins and minerals to ensure that every sip delivers not just amazing taste but also incredible nutrition.
Vegan Protein Extreme is high in protein, low in sugar and low in fat, as well as being GMO free, dairy free, lactose free and gluten free. Most importantly, Vegan Protein Extreme is also 100% vegan, helping you further minimize your impact on the planet, without ever compromising on taste.
* Disclaimer: Packaging may vary. Customer reviews are independent and based on personal experience. Individual results may vary. Products designed to be taken in conjunction with a balanced diet and training plan. Nutritional Information per serving based on Unflavored.
Please Note: flavour imagery is only a serving suggestion and for illustration purposes. It does not represent actual flavour ingredients.