Only Peanuts from Protein Works is made simply from 100% natural roasted peanuts.

Unlike standard brands ours contains absolutely no added sugar, palm oil or salt.

This nutrient dense peanut butter champions at least 25g of protein per 100g.

What Is Only Peanuts?
Protein Works Only Peanuts is made from 100% Natural Peanuts, no added nasties or any other rubbish supermarket brands put in these days, Only Peanuts is also Vegan-Friendly and Gluten Free. With an average reading of 1g of Protein and 25 Calories per teaspoon, this Nut Butter is a perfect companion for any fitness foodie wanting to add some extra macros. The best Peanut Butters start with a slow roasting process, this helps to heighten their natural flavour and get rid of any unwanted moisture. Next it's into the blender and ground to create that simply smooth distinctive delicious taste we all love. Protein Works Only Peanuts is incredibly good for you and offers a wide range of nutritional health benefits no matter your fitness goal or body type. Often used by athletes and gym-goers around as a healthy topping to their Protein Works Protein Pancakes or if you're like me you'll dive straight in with a spoon!! Take a look below at what Peanut Butter can do for you.
Only Peanuts Health Benefits
Protein Works Only Peanuts isn't just a pallet pleasing power-house, it's also incredibly nutritious. Boasting with an incredibly high protein content (25.6g per 100g). Loaded with monounsaturated fats, which have shown to contribute towards reducing bad cholesterol levels and increasing good ones too. Peanut Butter has a heap of other health benefits, we've only just scraped the surface of it! Let's not forget about its micronutrient content; folate, niacin, pantothenic acid, riboflavin and thiamin. To save you from boredom we've compiled only the very best into a short easy to read paragraph below.
Vitamin E - contributes to the protection of cells from oxidative stress

Vitamin B6 - helps the regulation of hormonal activity and contributes to the reduction of tiredness and fatigue

Vitamin B1- contributes to normal energy yielding metabolism and normal functioning of the nervous system

Magnesium - plays a role in the process of cell division and contributes to the maintenance of normal bones, teeth and protein synthesis

Iron - contributes to normal cognitive function and and the transportation of oxygen around the body

Fibre - helps to regulate the health of the digestive system

Protein - contributes to the maintenance and growth of muscle mass

Monounsaturated fats - shown to contribute towards the reduction of bad cholesterol in the blood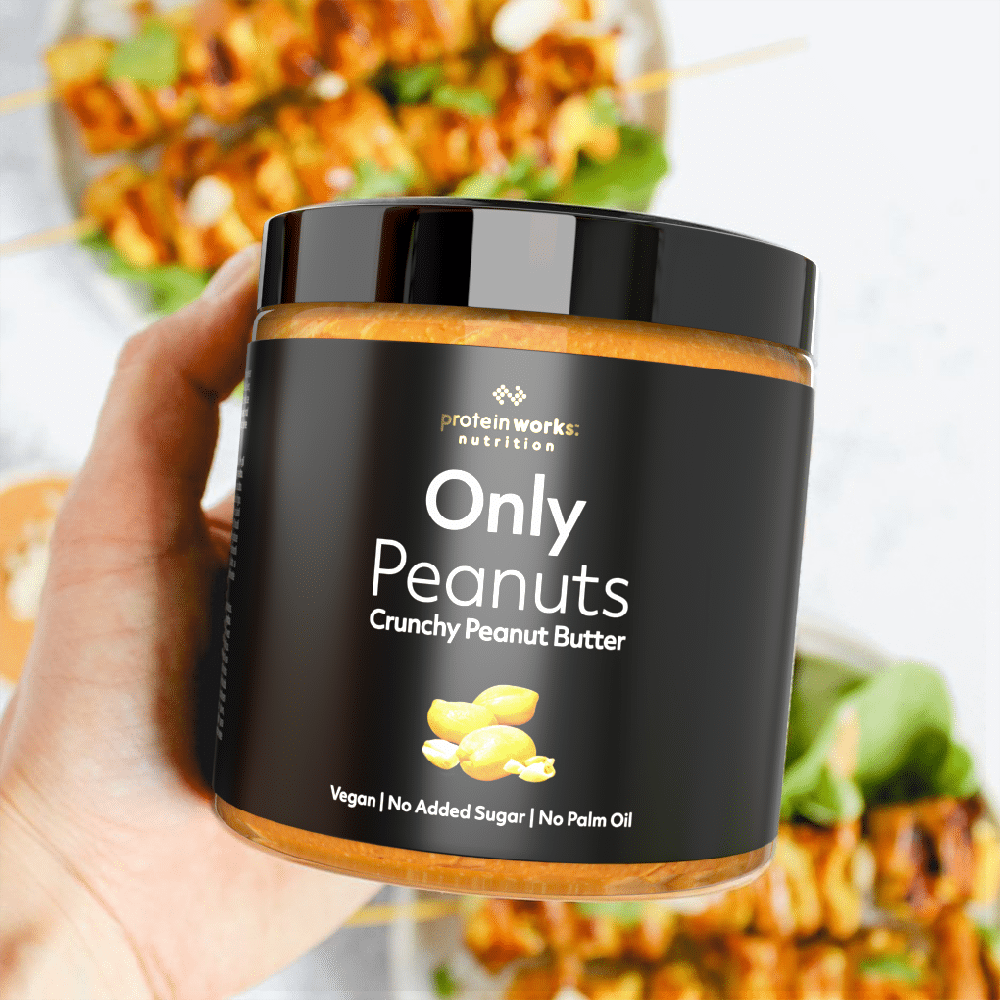 5 Reasons To Love Protein Works Only Peanuts
High Protein Content
Incredibly Tasty
Antioxidant Packed
It Won't Break The Bank
Nutrient Dense
If you love flavoured peanut butter, you absolutely have to try Loaded Nuts. Loaded Nuts is a premium nut butter spread that contains a number of delicious toppings and elements - from the crunchy cookies of our Hazelnut Crunch Cookie to the brownie chunks of our Chocolate Brownie.
Loaded Nuts is the ideal complement to your morning toast, porridge or pancakes. It can also be enjoyed directly from the jar with a good old spoon! A delicious source of protein, Loaded Nuts is a product with great taste and even more nutritional prowess. Like our peanut butter, it contains healthy monounsaturated fats and is 100% free of palm oil and artificial sweeteners.
* Disclaimer: Customer reviews are independent and based on personal experience. Individual results may vary. Products designed to be taken in conjunction with a balanced diet and training plan. Nutritional Information per serving based on unflavoured.
Please Note: flavour imagery is only a serving suggestion and for illustration purposes. It does not represent actual flavour ingredients.