Protein Grazers are a win-win! They are a healthier version of a typical chocolate-covered biscuit, and also a great alternative to a traditional protein bar.

They are of course high in protein and as with every Protein Works snack, taste amazing. Choose from two indulgent flavours: Salted Caramel Crunch and Double Chocolate Crisp.

They also come with a real crunch, making them a tempting and nutritious snack to enjoy any time of day.

Each box contains 18 biscuits, packed into 9 double foil-fresh packs, making them ideal to snack large or snack small, wherever you need a protein boost.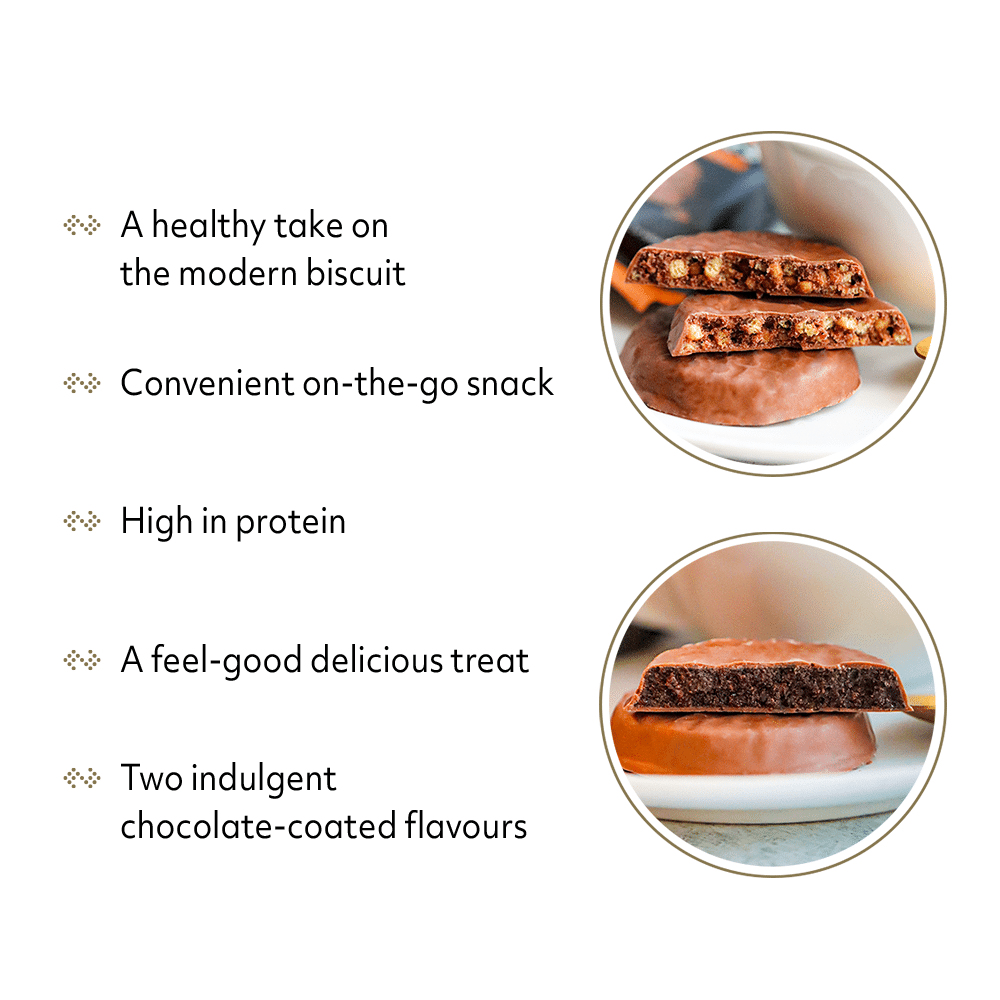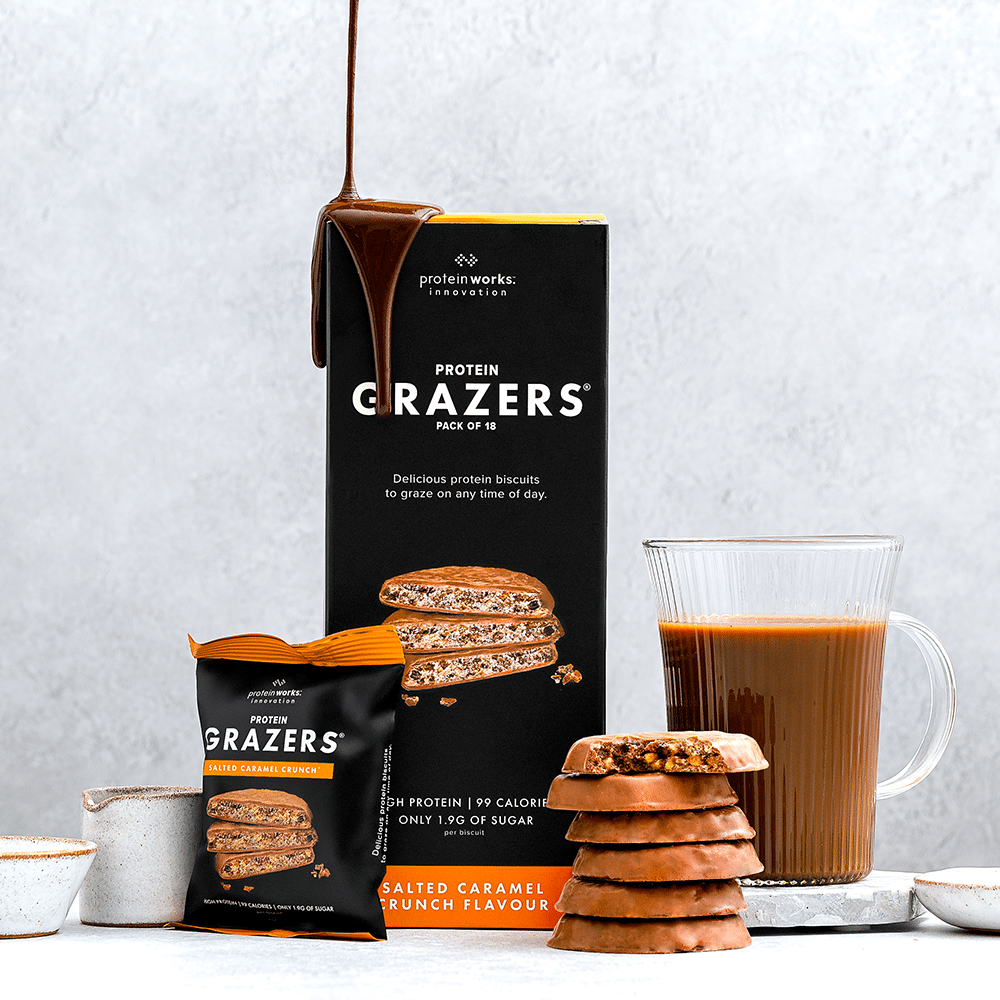 The Protein Bar Reinvented
Protein Grazers are a delicious chocolate-coated biscuit that tastes and feels just like an indulgent biscuit. Unlike a classic protein bar, these dynamite biscuit bombs have a real crunchy inside and luxurious chocolate exterior.
We all need to snack at different times of the day. It might be to fill a gap or to satisfy a craving. Protein Grazers are your new go-to snack. They're going to give you a protein boost, keep your sugar intake down and be easy on the calories.
And best of all, they're delicious! So what's not to love?
What time is Graze O'clock?
Protein Grazers are designed to make any time Graze O'clock! They are incredibly versatile to fit your lifestyle, and so we'll leave it to you to decide what works best for you.
On the go breakfast
Elevenses cheat treat
Afternoon pick me up
Snack attack in the evening
Midnight munchies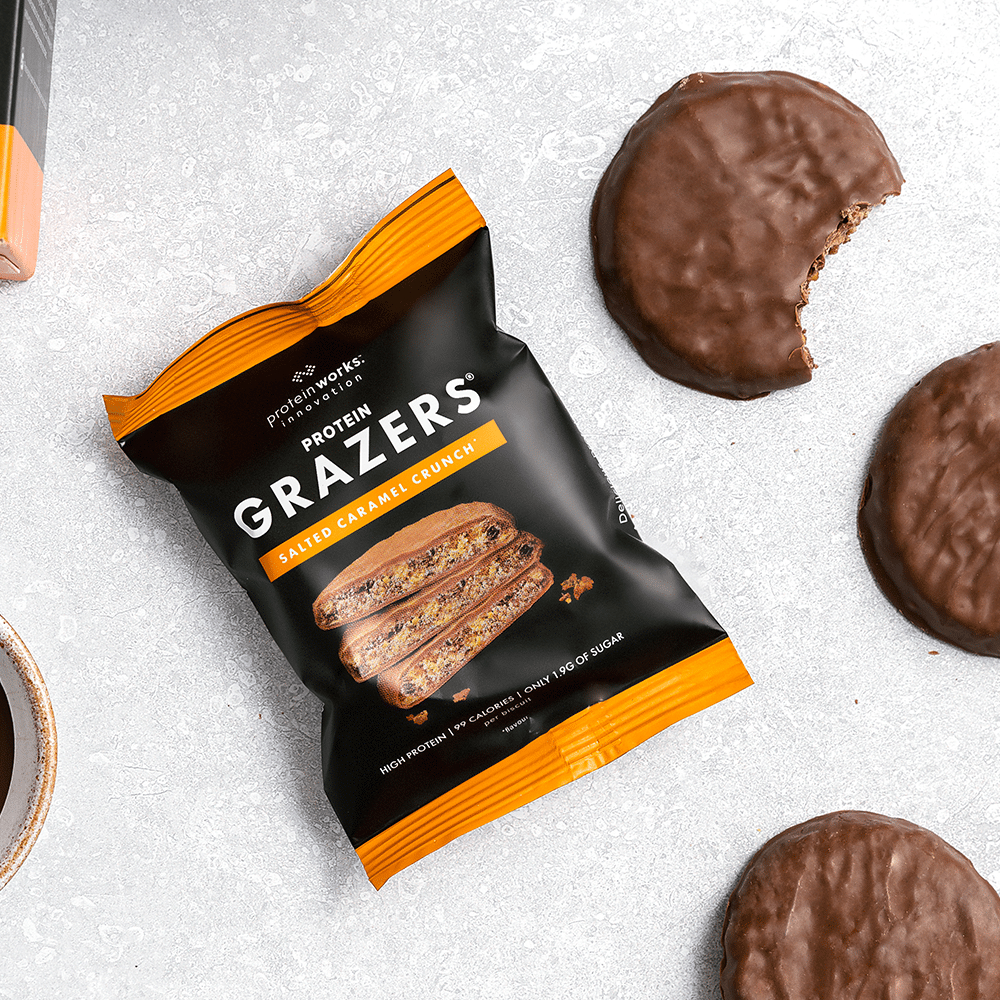 Flavours Off the Chart
Protein Grazers come in two indulgent flavours:
Salted Caramel Crunch: luxuriously smooth caramel flavours combined with a sprinkling of sea salt, wrapped in milk chocolate make this an absolute favourite with the team at HQ
Double Chocolate Crisp a true classic and best-seller from the get-go, this rich and indulgent crispy chocolate centre is double downed with a creamy milk chocolate coating
We don't mess about when it comes to creating flavours for our protein snacks. The incredible flavour combinations you know and love across our protein shakes are just as good when it comes to PW snacks.
We promise you won't be disappointed!
Please Note: flavour imagery is only a serving suggestion and for illustration purposes. It does not represent actual flavour ingredients.