Welcome to the best-tasting vegan protein bar on the planet.

We all know that chocolate and peanuts are a great combination. But this multi-layered Ridiculous Vegan Protein Bar takes things to the next level. It starts with a cookie dough base followed by a rich, gooey center filled with peanuts and our delicious caramel. To then top it off, it's all then coated with premium, plant based chocolate.

At under 1g of sugar per bar, Ridiculous Vegan Protein Bars will quickly become your favorite go-to healthy snack.

Ridiculous Vegan Protein Bars were designed to balance your conscience and your cravings. They're high in protein, fully plant based, and purposefully palm oil free.

In addition to being low in sugar, they're also gluten free and high in fiber. There are no preservatives, artificial flavor, or artificial colors in our Ridiculous Vegan Protein Bars either.

We use only the best quality ingredients to deliver a nutritious and indulgent taste and texture experience.
Why 'Ridiculous'?
We spent many months working on a bar that would outweigh the competition in both nutrition and taste. We wanted a bar that would not only be vegan but also without any palm oil whatsoever. After several months, we finally had the perfect protein bar - and we named it Ridiculous. Why? Because it's ridiculously tasty, ridiculously good. It's not just their delicious taste that makes them ridiculous though, their ingredients and nutritional profile is too. Ridiculous Vegan Protein Bars are:
Fully plant based
Purposely palm oil free
High protein & less than 1g of sugar
Under 200 calories
Completely gluten free
Without any artificial flavors, colors or preservatives
Naturally sweetened
Delicious in taste, with multiple layers of indulgence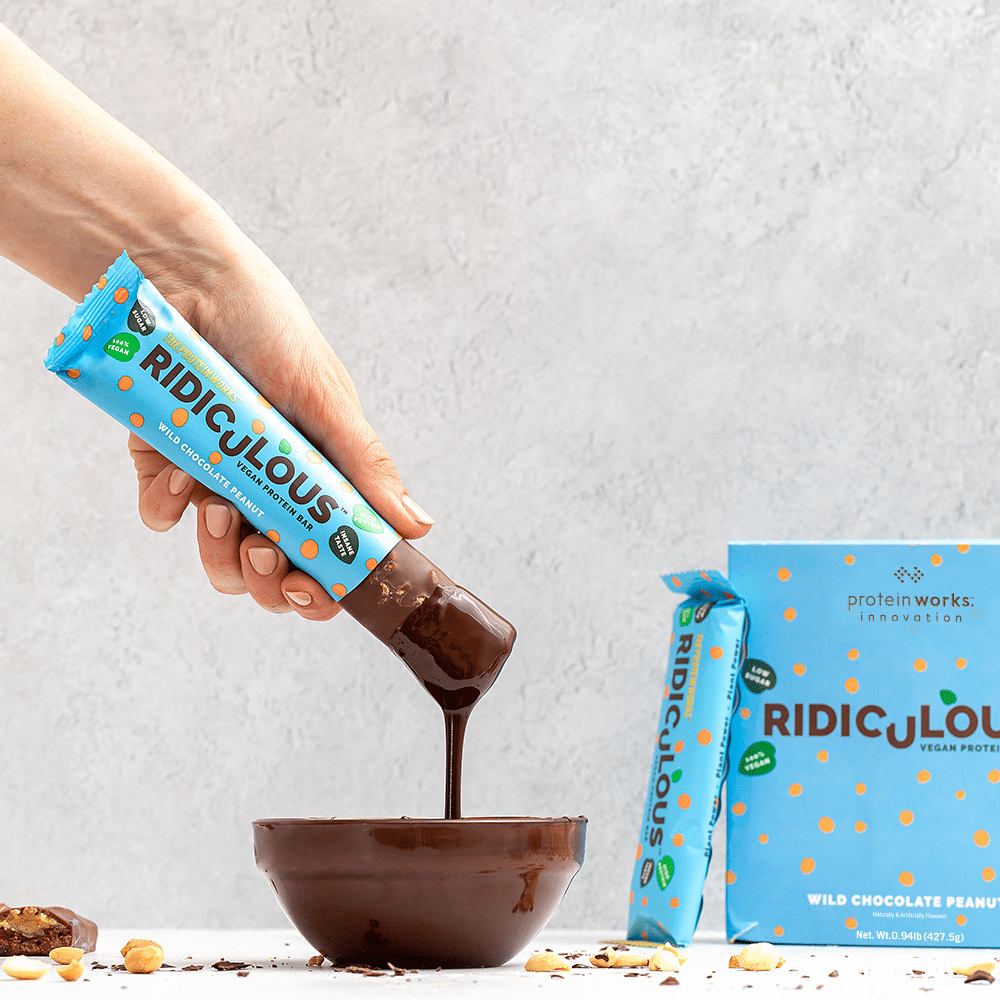 What are the benefits of Ridiculous Vegan Protein Bars?
Ridiculous Vegan Protein Bars are the perfect size to enjoy on-the-go, at the gym, at work, or whenever you most want a bite of something sweet but low in sugar, high in protein, and high in fiber. They have an unparalleled texture and taste similar to a candy bar at a fraction of the calories and sugar.
Ridiculous Vegan Protein Bars are the perfect snack to beat your cravings and support your health and fitness goals. They are 100% vegan and 100% free of palm oil too, helping to reduce your intake of animal-based products and minimize your impact on the environment.
There is zero compromise for your taste buds, your body, or your conscience with these delicious vegan protein bars.
How to enjoy Ridiculous Vegan Protein Bars
We crafted this plant based snack into perfectly-sized portion. At just under 2oz per a bar, Ridiculous Vegan Protein Bars are a convenient and balanced portion-sized snack to stave off hunger while delivering you a balanced and nutritious treat.
Enjoy a Ridiculous Vegan Protein Bar alongside your morning coffee, before or after the gym, as an on-the-go snack, or a quick treat to enjoy at work or in the evening when you most crave a sweet and delicious pick-me-up.
* Disclaimer: Customer reviews are independent and based on personal experience. Individual results may vary. Products designed to be taken in conjunction with a balanced diet.
Please Note: flavour imagery is only a serving suggestion and for illustration purposes. It does not represent actual flavour ingredients.